Have your cake and eat it too with BigSIS, an all-in-one school management solution.
Are you tired of trying to piece together data through a variety of programs? Are you still using manual processes that take up hours of staff time a week? Then you know all too well that an integrated school management and student information system are sweet. But an all-in-one solution that is modern, intuitive, and keeps up with the digital demands of this generation of families and staff? That's the icing on the cake!
That's where BigSIS comes in. The cloud-based solution unifies admission, enrollment, tuition, fundraising, and academic functions so that keeping up with change is a piece of cake.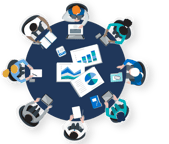 Join us for an exciting discussion with Bethany Little, Community Brands President, Richard Grazier, Managing Director Education Brands, and Ben Alexandra, BigSIS Founder, to learn how BigSIS, as part of Community Brands, can power your school's needs TODAY and innovate for the future!